SBA LOAN FUND INVESTORS:
Financial institutions, diversified financial services companies and non-traditional lenders seeking targeted Community Reinvestment Act (CRA) Community Development credit
Financial institutions and other institutions seeking risk-adjusted returns for investing in a diversified pool of government guaranteed securities
SBA 7(a) pool investors seeking to diversify premium risk and stabilize cash flows
Rated Aaa-bf by Moody's Investor Services, highest possible credit quality rating
The Fund received a Aaa-bf ("triple A bond fund") rating from Moody's Investor Services, the highest possible credit quality rating, on January 9, 2018. The Fund primarily invests in the federally guaranteed portion of SBA 7(a) loans that adjust quarterly or monthly and are indexed to the Prime Rate.
INVESTMENT OBJECTIVE:
The Fund seeks to provide current income that is consistent with the returns available in adjustable-rate government guaranteed financial products by investing in Community Development Loans guaranteed by the Small Business Administration (SBA). Community Development Loans are loans to small businesses located in Low and Moderate Income areas or that employ Low and Moderate Income persons.
Investment in the Fund can be counted for either Community Development Lending Test or Investment Test credit for CRA. The Fund has over $527 million of gross assets and 112 funded investors.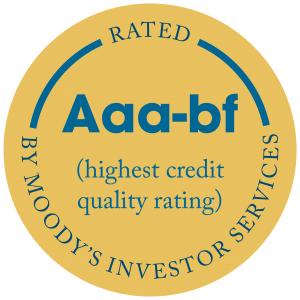 Impact
Since inception, the Fund has supported the creation and/or retention of over 41,900 jobs as of December 31, 2017.
Investment benefits:
Cost Efficient Investment
No front or back end sales charge or load
A maximum 0.60% management fee, subordinated to Preferred Return
Risk Mitigation Features
Primary asset class is federally guaranteed and variable rate
Diversified portfolio with over 880 loans currently in the Fund, "SBA Mega-Pool"
Quarterly liquidity
CRA Benefits
Community Development Investment or Lending Test eligible*
Targeted CRA credit within an investor's assessment area
Quantifiable impact data: jobs created and/or retained
A CDFI Fund designated Community Development Entity (CDE)
New Markets Tax Credit Allocatee
Fund Service Providers:
U.S. Bank N.A. – Fund Custodian
CohnReznick LLP – Audit
U.S. Bancorp Fund Services, LLC – Fund Administrator
*Past performance is no guarantee of future results and future returns are not guaranteed. While every investor has received positive CRA consideration from their regulator thus far, this is no guarantee of future results and future exam results are not guaranteed. The Fund has not been approved by any regulatory agency.
Investor Subscription Process
Minimum investment in the Fund is $500,000. An investor commits to the Fund by executing a non-binding subscription agreement which details the investment commitment amount and in what, if any, CRA geographical area the SBA loans need to be located.
The Fund Manager will attempt to acquire SBA loans that meet the investment criteria of the investor. Upon successful acquisition of "substantially all" (85%) of the loans in the investor's "Targeted Region," the investor will wire funds to an investment custody account maintained by the SBA Loan Fund with U.S. Bank's Trust Securities Services.
The investor will then receive quarterly distributions and statements from the Fund Manager, via U.S. Bancorp Fund Services, and will be able to redeem its investment on a quarterly basis with 60 days' notice, subject to the terms of the Fund's Private Placement Memorandum and Operating Agreement, which are available upon request.
COIN Qualified Investment
SBA Loan Fund has been certified as a COIN Qualified Investment Fund.  The California Organized Investment Network (COIN) serves as a national model that provides leadership in increasing insurance industry investment in underserved and rural communities throughout California.  Its mission is to guide insurers on making safe and sound investments that yield environmental benefits throughout California and/or social benefits within the State's underserved communities.  To earn this certification, the Fund demonstrated that it provides a positive environmental impact to low-to-moderate income households or areas, as well as rural and reservation based communities in California.
Community Reinvestment Act
The Community Reinvestment Act is a federal law enacted in 1977 that encourages financial institutions to help meet the credit needs of borrowers in all segments of their communities including low and moderate income neighborhoods. The act applies to depository institutions that carry FDIC deposit insurance and is enforced by federal regulatory agencies examining banks for CRA compliance. This information is taken into consideration when approving applications for new bank branches or mergers.
Impact Map of Loan Profiles